Strength in your builds mean strength
in your business
The Qld Steel

House Frames
Advantage
Founded by a tradesman, we know what is important to builders and a quality build, which is why we developed framing systems that align to the way that trades work. We produce superior steel framing solutions while simplifying the building experience.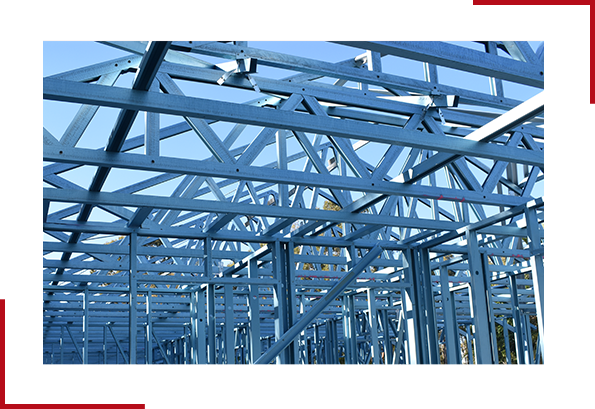 Enhance

your offering AND your
productivity
More and more homeowners are turning to steel (instead of timber) for the structural backbone of their homes. Our easy to use steel framing systems enables you and your build team to accommodate this change in industry with minimal disruption to operations and productivity.
Why more builders/carpenters prefer
Qld Steel
House Frames
Innovation backed by experience
Qld's single largest steel framing supplier
Unique framing systems that are easy to use for all trades
Seamless timber to steel transition
We issue an engineering certification with every frame
Unrivalled build support as needed
Minimal training required
Lightweight & easy to install
Pre-fabricated offsite with pre-punched service holes for fast installation
Seamless Finish
Perfectly aligned, every time. Our innovative swage system means no screws
protrude (no bumps) creating a better finish frame.
You choose

the level of support
We deliver framing to your build site (no installation)
You contact us for a quote
Our estimating team will quote your project
Quote is accepted
We manufacture your frames & trusses using precise roll former machines
We deliver framing to your site
We offer support and resources to your carpenters/builders
We deliver and erect the full house frame on your slab or our flooring system
You provide us with your plans
Our estimating team will quote your project
Quote is accepted
Our drafting team will detail the plans using the latest 3d drafting software
We work out logistics of when the site will be ready for install
We manufacture your frames & trusses using precise roll former machines
You confirm site is ready for install
Our experienced team will deliver and install your steel frames and trusses
Why we are the framing partner of choice for
Queensland builders
We provide the highest quality steel framing systems and we're proud to boast our position as one of the best
steel frame suppliers in QLD – because we can back it up, every build, every time.
Our obligation- free quotes are fast, concise and all-inclusive thanks to our time-honoured quoting methods.
Our tried and tested procedures and highly skilled & experienced staff get the job done safely and efficiently
We pride ourselves on the quality of our steel framing solutions and workmanship – because we can back it up!
Our unique, precision manufacturing processes results in an easy to assemble framing product that builders prefer
We provide a full-service steel framing solution with our very own fleet of trucks to get your frames to your site on time.
We provide ongoing support pre and post installation, ensuring you are confident in the structural integrity of your build.
DOWNLOAD YOUR FREE GUIDE TO STEEL AND SEE HOW IT CAN BETTER YOUR BUSINESS.
Or Get An Obligation FREE Quote On Your Next Job